Posted by admin in Tips and Guides | Comments Off
What Fonts Have I Got On My Computer?
A question that many scrapbookers ask is "what fonts do I have installed on my computer?". With the release of Windows 7, font management has changed again.
To see all the fonts you have, click the Start button and then select Control Panel > Appearance and Personalisation.
When the Appearance and Personalisation window opens, click on Fonts at the bottom.
Depending on how many fonts you have on your computer, the Fonts window may take some time to open. When it does, you should see a window displaying a gallery of all your fonts.
On this window you can change the size of the thumbnail images or even change the display to be a list of font names without a preview image of the font. I find that the best view of the Fonts window to be Medium Icons: viewing icons is good because you get to see what each one looks like, and the medium size is small enough to be able to display more fonts.
You can change your view by clicking on the icon in the top right of the Font window.

Actually there are two buttons there. The one on the left steps through each view in turn, whereas the one on the right allows you to select one from all the views available: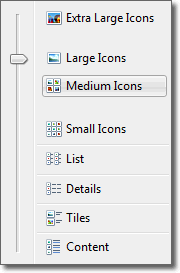 Using the button on the right is usually quicker as you don't have to spend time cycling through all the options you aren't interested in.